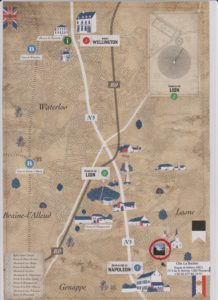 The "Fédération des Gîtes de Wallonie" presents all the cottages and B & B on the Walloon territory. We have been affiliated since June 2015 (reference 2530 for the Gîte and 2789 for the Chambre d'Hôtes).
The "Province du Brabant wallon" has many tourist information (activities, restaurants and accommodation) on the territory of Walloon Brabant.
More broadly, the Walloon Region, via the Commissariat Général au Tourisme (CGT), has a tourism portal in Wallonia.
Very active in the country of Waterloo and surroundings, extending from Braine-L'Alleud, La Hulpe, Genappe and Lasne, the Waterloo Tourism Office is a wealth of information concerning "Waterloo 1815" in particular, but also the events and activities of all kinds as well as catering and accommodation existing in this part of Walloon Brabant.
The site of Lasne, with its specific page listing the list of cottages , and the site of the shops of Lasne, inform about life in the great Lasne (covering the towns of Ohain, Lasne, Plancenoit, Couture and Maransart), its commercial activities and others.
In the village, the CAP (Circle of Friends of Plancenoit) offers cultural activities throughout the year, sometimes in the farm of La Bachée as the walk of artists and artisans. Musical events, participative conferences, photo exhibitions, …
In November 2015, one of the first RTBF programs "Les Ambassadeurs" came to visit Lasne and was welcomed at Gîte La Bachée.
Do you like Golf? Not far from the cottage, the one of Rigenée will welcome you with great pleasure.
To be continued with the meetings we make every day …